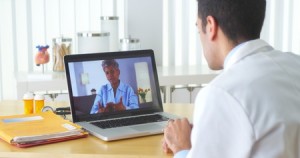 Telemedicine is receiving care using video conferencing on a smart phone, laptop, computer, or tablet. We offer our health psychology services via telemedicine. Patients need to have access to high-speed internet or strong cellular signal for telemedicine to work effectively. Telemedicine can be performed in the privacy of a patient's home. We use an encrypted telemedicine platform for increased patient security. If a patient is interested in telemedicine, our staff will email the appropriate consent forms to sign electronically. If psychological testing is needed, appropriate links will be emailed to patient and the testing will need to be completed prior to scheduling an encounter with a psychologist.
Telemedicine is no longer limited to rural settings and can be performed in any state our providers are licensed or have a licensure agreement.
Our providers participate with PSYPACT, which means telemedicine can be performed in the following states or districts by our providers:
Alabama, Arizona, Arkansas, Colorado, Commonwealth of the Northern Mariana Islands, Connecticut Delaware, District of Columbia, Georgia, Idaho, Illinois, Indiana, Kansas, Kentucky, Maine, Maryland Michigan, Minnesota, Missouri, Nebraska, Nevada, New Hampshire, New Jersey, North Carolina
Ohio, Oklahoma, Pennsylvania, Tennessee, Texas, Utah, Virginia, Washington, West Virginia, Wisconsin, and Wyoming.