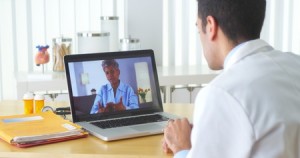 Telemedicine is providing psychological services, evaluation and treatment, via a secure video internet connection. Patients have to be located in a physician's office, hospital, or outpatient clinic in a non metropolitan area as defined by the US census department. Medicare, KY Medicaid and most insurance companies cover this service.
A telemedicine site is set up prior to the first patient between Bluegrass Health Psychology and the clinic in which the patient is attending. There needs to be a high speed internet connection with a camera, headphones with a microphone in a private room. The patient will come to the remote clinic, complete psychological testing at the location which be mailed to the main office of Bluegrass Health Psychology.  The patient will be evaluated and/or receive treatment by the health psychologist via live internet video conferencing. Evaluations and treatment can be done for Chronic Pain, Bariatric, Spinal Cord Stimulator, Intrathecal Pain Pumps, Insomnia, and Headaches (please have corresponding links).
There is a facility fee which can be billed for telemedicine to cover the expense of the video equipment.